Assoc. Prof. Loretta Nastoupil
Haematologist
MD Anderson Cancer Center
United States
Loretta Nastoupil, MD, completed her undergraduate degree at Texas Tech Health Sciences Center, graduating summa cum laude in 2003. She obtained her medical degree from the University of Texas Southwestern Medical School at Dallas in 2007. Dr Nastoupil completed her internship and internal medicine residency at Washington University, Barnes-Jewish Hospital in St. Louis, Missouri. Following residency, she completed a hematology-medical oncology fellowship at Emory University, serving as chief fellow her last year. Dr Nastoupil joined the faculty at MD Anderson Cancer Center in 2013 as an assistant professor in the Department of Lymphoma/Myeloma. Dr Nastoupil is a clinical researcher with a focus on lymphoma epidemiology and outcomes. The goal of her research is to identify risk factors associated with lymphoma and eliminate disparities in outcomes to improve survival for all patients with lymphoma. She is actively involved in early phase drug development as well as immune therapy studies in indolent lymphoma. She is also actively exploring predictive biomarkers with modern therapy in lymphoma.
Assoc. Prof. Loretta Nastoupil has received financial support/sponsorship for research support, consultation, or speaker fees from the following companies:
Bayer, BMS, Genentech, Epizyme,Gilead/Kite, Novartis, TG Theraputics and Pfizer.
Other programmes developed by Assoc. Prof. Loretta Nastoupil
Hemato-oncology
Episode 1
Experts
Assoc. Prof. Loretta Nastoupil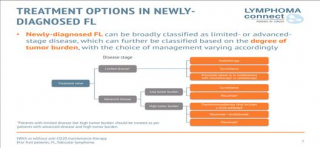 Hemato-oncology
A review paper 'Follicular lymphoma: recent and emerging therapies, treatment strategies, and remaining unmet needs' authored by LYMPHOMA CONNECT members
Experts
Prof. Alexey V Danilov, Assoc. Prof. Loretta Nastoupil, Dr Matthew J. Matasar, Prof. Daniel Perksy, Dr Massimo Magagnoli, Assoc. Prof. Stefan K Barta, Prof. Paul M Barr, Assoc. Prof. Tycel Phillips, Dr Jessica Okosun, Prof. Mats Jerkeman, Prof. Stefano Luminari, Dr Brian Hill
Hemato-oncology
Episode 2
Experts
Assoc. Prof. Loretta Nastoupil