Assoc. Prof. Robert Klamroth
Haematologist
Vivantes Hospital Friedrichshain
Germany
Dr Robert Klamroth received his medical degree in 1994, and went on to gain his PhD in 1996 at Free University, Berlin, Germany. Here he took the position of Academic Assistant of the Clinic for Internal Medicine and Complementary Medicine, University Medical Centre, and then became Assisting Consultant / Senior Consultant of the Department for Coagulation Disorders / Haemophilia Treatment Centre of the Hospital in Friedrichshain, Berlin, a position which he held until 2001 when he received his specialisation in internal medicine. Since 2001, Dr Klamroth has been Assistant Medical Director at the Clinic for Internal Medicine, Angiology and Coagulation Disorders, and Director of the Haemophilia Treatment Centre and the Department of Coagulation Disorders at the Vivantes Hospital in Friedrichshain, Berlin. Since 2014 he has been head of the Department for Internal Medicine and Vascular medicine at this hospital. Since 2017 he has been Associate Professor of Coagulation Disorders at the University of Bonn. Since 1997, Dr Klamroth has published more than 100 manuscripts in the field of haemophilia and coagulation disorders, and made many academic contributions on coagulation disorders, as well as participating in clinical studies in this field. His major research interest is haemophilia in adults. Dr Klamroth is the vice president of for the European Association of Haemophilia and Allied Disorders (EAHAD) and holds membership of various national and international societies in the field of angiology, thrombosis and haemostasis. He also serves as Vice President at the German Society of Thrombosis and Haemostasis (GTH).
Assoc. Prof. Robert Klamroth has received financial support/sponsorship for research support, consultation, or speaker fees from the following companies:
Bayer, Biotest, Biomarin, CSL Behring, LEO, Novo Nordisk, Octopharma, Pfizer, Roche/Chugai, Sanofi, Sobi and Takeda.
Other programmes developed by Assoc. Prof. Robert Klamroth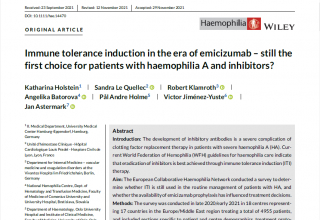 Hemostasis and bleeding disorders
Experts
Dr Katharina Holstein, Prof. Jan Astermark, Prof. Victor Jiménez-Yuste, Prof. Pål Andrè Holme, Prof. Angelika Batorova, Assoc. Prof. Sandra Le Quellec, Assoc. Prof. Robert Klamroth