Dr Irene Bargellini
Interventional Radiologist
Pisa University Hospital
Italy
Dr Irene Bargellini completed her medical degree and post-graduate course in Radiology at the University of Pisa in Italy. Since then, she has been working in the Department of Interventional Radiology and has become Supervisor of the Interventional Oncology Program of Pisa University Hospital. She is specifically interested in diagnosis and management of patients with hepatocellular carcinoma (HCC), particularly with regards to outcomes of transarterial therapies. Relevant publications Crocetti L, Bargellini I, Cioni R. Loco-regional treatment of HCC: current status. Clin Radiol 2017 Feb 28. pii: S0009-9260(17)30041-7. doi: 10.1016/j.crad.2017.01.013. [Epub ahead of print] Bargellini I. How does selective internal radiation therapy compare with and/or complement other liver-directed therapies. Future Oncol 2014 Nov;10(15 Suppl):105-9. doi: 10.2217/fon.14.236. Golfieri R, Giampalma E, Renzulli M, Cioni R, Bargellini I, Bartolozzi C, Breatta AD, Gandini G, Nani R, Gasparini D, Cucchetti A, Bolondi L, Trevisani F; PRECISION ITALIA STUDY GROUP. Randomised controlled trial of doxorubicin-eluting beads vs conventional chemoembolisation for hepatocellular carcinoma. Br J Cancer 2014 Jul 15;111(2):255-64. doi: 10.1038/bjc.2014.199. Bargellini I, Scionti A, Mismas V, Masi G, Vivaldi C, Bartolozzi C, Sacco R. Identification of responders to sorafenib in hepatocellular carcinoma: is tumor volume measurement the way forward? Oncology 2014; 86(4):191-8. doi: 10.1159/000358599. Dufour JF, Bargellini I, De Maria N, De Simone P, Goulis I, Marinho RT. Intermediate hepatocellular carcinoma: current treatments and future perspectives. Ann Oncol 2013 Apr; 24 Suppl 2:ii24-9. doi: 10.1093/annonc/mdt054. Bargellini I, Florio F, Golfieri R, Grosso M, Lauretti DL, Cioni R. Trends in utilization of transarterial treatments for hepatocellular carcinoma: results of a survey by the Italian Society of Interventional Radiology. Cardiovasc Intervent Radiol 2014 Apr; 37(2): 438-44. doi: 10.1007/s00270-013-0656-5. Bargellini I, Bozzi E, Campani D, Carrai P, De Simone P, Pollina L, Cioni R, Filipponi F, Bartolozzi C. Modified RECIST to assess tumor response after transarterial chemoembolization of hepatocellular carcinoma: CT-pathologic correlation in 178 liver explants. Eur J Radiol 2013 May; 82(5): e212-8. doi: 10.1016/j.ejrad.2012.12.009. Sacco R, Bargellini I, Bertini M, Bozzi E, Romano A, Petruzzi P, Tumino E, Ginanni B, Federici G, Cioni R, Metrangolo S, Bertoni M, Bresci G, Parisi G, Altomare E, Capria A, Bartolozzi C. Conventional versus doxorubicin-eluting bead transarterial chemoembolization for hepatocellular carcinoma. J Vasc Interv Radiol 2011 Nov; 22(11): 1545-52. doi: 10.1016/j.jvir.2011.07.002. Bargellini I, Sacco R, Bozzi E, Bertini M, Ginanni B, Romano A, Cicorelli A, Tumino E, Federici G, Cioni R, Metrangolo S, Bertoni M, Bresci G, Parisi G, Altomare E, Capria A, Bartolozzi C. Transarterial chemoembolization in very early and early-stage hepatocellular carcinoma patients excluded from curative treatment: a prospective cohort study. Eur J Radiol 2012 Jun; 81(6): 1173-8. doi: 10.1016/j.ejrad.2011.03.046. Bargellini I, Vignali C, Cioni R, Petruzzi P, Cicorelli A, Campani D, De Simone P, Filipponi F, Bartolozzi C. Hepatocellular carcinoma: CT for tumor response after transarterial chemoembolization in patients exceeding Milan criteria--selection parameter for liver transplantation. Radiology 2010 Apr; 255(1): 289-300. doi: 10.1148/radiol.09090927. Grosso M, Vignali C, Quaretti P, Nicolini A, Melchiorre F, Gallarato G, Bargellini I, Petruzzi P, Massa Saluzzo C, Crespi S, Sarti I. Transarterial chemoembolization for hepatocellular carcinoma with drug-eluting microspheres: preliminary results from an Italian multicentre study. Cardiovasc Intervent Radiol 2008 Nov-Dec; 31(6):1141-9. doi: 10.1007/s00270-008-9409-2. Lencioni R, Crocetti L, Petruzzi P, Vignali C, Bozzi E, Della Pina C, Bargellini I, Cioni D, Oliveri F, De Simone P, Bartolozzi C, Brunetto M, Filipponi F. Doxorubicin-eluting bead-enhanced radiofrequency ablation of hepatocellular carcinoma: a pilot clinical study. J Hepatol 2008 Aug; 49(2): 217-22. doi: 10.1016/j.jhep.2008.03.021. Vignali C, Bargellini I, Grosso M, Passalacqua G, Maglione F, Pedrazzini F, Filauri P, Niola R, Cioni R, Petruzzi P. TIPS with expanded polytetrafluoroethylene-covered stent: results of an Italian multicenter study. AJR Am J Roentgenol 2005 Aug; 185(2): 472-80.
Dr Irene Bargellini has received financial support/sponsorship for research support, consultation, or speaker fees from the following companies:
Bayer Spa, Boston Scientific, Biocompatibles UK Ltd, EISAI, Guerbet, Sirtex Medical and Terumo Europe.
Other programmes developed by Dr Irene Bargellini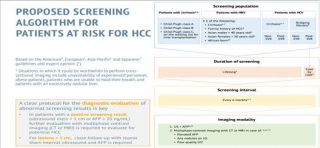 Oncology
Experts
Prof. Sammy Saab, Dr Amit Singal, Dr Irene Bargellini, Dr Catherine Frenette