Prof. Angelika Batorova
Haematologist
University Hospital Bratislava
Slovakia
Angelika Batorova is a Medical Director of the National Hemophilia Centre and Hemostasis and Thrombosis Unit of the Department of Hematology and Transfusion Medicine, University Hospital, Bratislava. Dr Batorova received her medication education from Comenius University, Bratislava, where she specialised in Internal Medicine, Hematology and Transfusion Medicine. In 1992 she obtained the PhD and in 2004 the position of Associate Professor at the Medical School of Comenius University and at the Postgraduate Medical School, both in Bratislava. The fellowship and visiting appointments included the National Hemophilia Centre in Tel Aviv, the New York Blood Centre, and the Hemophilia Comprehensive Care Centers in New York. Dr Batorova's fields of interests is the optimisation of hemophilia treatment, including the treatment of inhibitors, management of surgery, continuous infusion of coagulation factors as well as the comprehensive care for congenital factor VII deficiency. Dr Batorova has worked as a member of the Executive Committee and the Medical Advisory Board of the World Federation of Hemophilia 2006 – 2010 and currently she is a member of the Data and Demographic Committee of the WFH and the Medical Advisory Group of the European Haemophilia Consortium.
Prof. Angelika Batorova has received financial support/sponsorship for research support, consultation, or speaker fees from the following companies:
CSL Behring, Novo Nordisk, Octopharma, Roche, Sobi and Takeda.
Other programmes developed by Prof. Angelika Batorova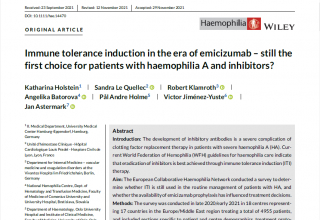 Hemostasis and bleeding disorders
Experts
Dr Katharina Holstein, Prof. Jan Astermark, Prof. Victor Jiménez-Yuste, Prof. Pål Andrè Holme, Prof. Angelika Batorova, Assoc. Prof. Sandra Le Quellec, Assoc. Prof. Robert Klamroth