Dr Jonathan C. Roberts
Paediatric and Adult Haematologist
Bleeding & Clotting Disorders Institute (BCDI)
United States
Jonathan C. Roberts, MD is the Associate Medical Director and Associate Research Director at the Bleeding & Clotting Disorders Institute (BCDI) and Assistant Professor of Pediatrics at the University of Illinois College of Medicine at Peoria in Peoria, IL, USA. Dr Roberts graduated from the Southern Illinois School of Medicine in 2008 and completed his internship and residency in Pediatrics at the University of Illinois College of Medicine at Peoria at OSF St. Francis Children's Hospital in 2011. After finishing his residency, Dr Roberts completed fellowship in Pediatric Hematology/Oncology/Blood & Marrow Transplantation at the Medical College of Wisconsin/Children's Hospital of Wisconsin in 2014 and worked as a post-doctoral fellow under Dr Robert Montgomery and Dr Joan Cox Gill at the BloodCenter of Wisconsin Blood Research Institute. Dr Roberts' research areas of interest are in advancing novel laboratory assay development to improve the diagnosis of von Willebrand Disease and to enhance individualized clinical management of hemophilia. He has received numerous young investigator research awards, has over 40 peer-reviewed research publications and abstracts including lead author publications in Blood and the New England Journal of Medicine, and has had grant funding from the National Hemophilia Foundation, World Federation of Hemophilia, and NIH among others. Dr Roberts has a personal passion for the bleeding disorders community as he is also an individual with severe hemophilia A.
Dr Jonathan C. Roberts has received financial support/sponsorship for research support, consultation, or speaker fees from the following companies:
Genzyme, Novo Nordisk, Octopharma, Pfizer, Sanofi, Takeda and UniQure.
Other programmes developed by Dr Jonathan C. Roberts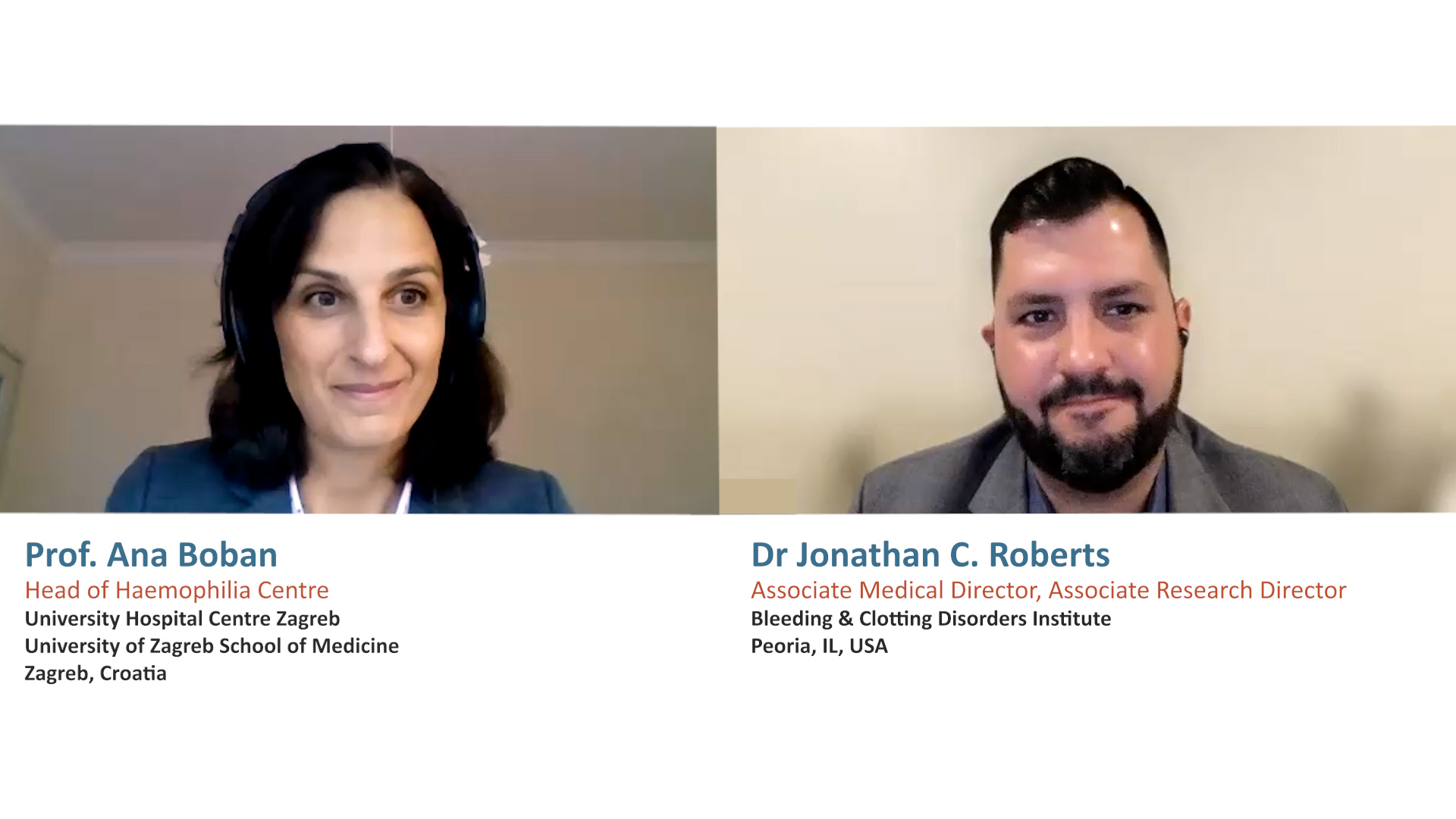 Podcast
Hemostasis and bleeding disorders
Experts
Prof. Ana Boban, Dr Jonathan C. Roberts
Hemostasis and bleeding disorders
Module 2 - How to screen for VWD
Hemostasis and bleeding disorders
Module 3 - How to care for a patient with VWD
Hemostasis and bleeding disorders
Module 1 - When to consider VWD