Prof. Georg Lenz
Haematologist-Oncologist
University Hospital Münster
Germany
Professor Georg Lenz is Director of the Department of Hematology, Oncology and Pneumology at the University Hospital in Muenster, Germany. He started his career as a medical doctor in Munich in 2002 and completed his post-doctoral fellowship at the National Cancer Institute in Bethesda, USA. In 2009, he moved to Berlin and continued his scientific career as Professor of "Molecular pathogenesis of malignant lymphomas" at the Charité - Universitätsmedizin Berlin where he also worked as a Senior Physician at the Medical Clinic of Hematology, Oncology and Tumor Immunology until 2014. His research focuses on the molecular characterization of malignant lymphomas. Clinically he focuses on trials investigating the efficacy of novel compounds in the therapy of patients with hematological malignancies. He has published numerous articles in peer-reviewed journals such as the New England Journal of Medicine, Science, Nature, Blood, and the Journal of Clinical Oncology, and he has authored several books and book chapters.
Prof. Georg Lenz has received financial support/sponsorship for research support, consultation, or speaker fees from the following companies:
Abbvie, AstraZeneca, Bayer, BMS, Celgene, Gilead, Incyte, Janssen, Morphosys, Novartis, Nanostring, Roche and Takeda.
Other programmes developed by Prof. Georg Lenz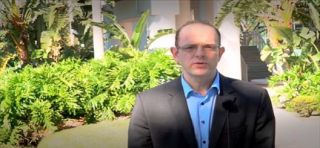 Hemato-oncology
Prof. Georg Lenz discusses the recent developments in the treatment of Diffuse Large B-Cell Lymphoma (DLBCL)
Experts
Prof. Georg Lenz