Prof. Neeraj Agarwal
Medical Oncologist
University of Utah Huntsman Cancer Institute
United States
Neeraj Agarwal, MD, is a Professor in the Division of Oncology, Department of Medicine, at the University of Utah School of Medicine. He is the Senior Director for Clinical Research Innovation at Huntsman Cancer Institute, and the HCI Presidential Endowed Chair of Cancer Research. He also serves as the Director of the Genitourinary Oncology Program at the Huntsman Cancer Institute, Salt Lake City, Utah, and directs the Center of Investigational Therapeutics and co-leads the "Experimental Therapeutic Program" at HCI. As a specialist in adult hematology and oncology, Dr Agarwal cares for patients with all types of cancer and specializes in genitourinary malignancies (cancers of the prostate, kidney, bladder and testes). Dr Agarwal is a member of several professional societies, including the American Society of Clinical Oncology (ASCO), the American Association of Cancer Research (AACR) and the Southwest Oncology Group (SWOG). After receiving his MD degree from All India Institute of Medical Sciences in New Delhi, India, Dr Agarwal completed a residency in internal medicine and a fellowship in geriatric medicine at the University of Iowa. He then completed a hematology-oncology fellowship at HCI and the University of Utah School of Medicine. Dr Agarwal has received several awards and grants and has authored more than 300 peer-reviewed articles and book chapters. He has given talks at several prestigious regional and national forums and serves as a panel member for the NCCN guideline-committees for bladder and kidney cancer. Dr Agarwal also serves as the overall study chair and/or steering committee member of multiple national and international clinical trials in GU cancers. Dr Agarwal has the prestigious honor of being chosen as one of the five young investigators of the Southwest Oncology Group in 2009. He has been appointed as the leader of early therapeutics of the SWOG Genitourinary Cancer Committee in 2010. Dr Agarwal is also the recipient of the prestigious 2009-2010 William D. Odell Young Investigator award from the University of Utah's, Department of Medicine, and the 2014 Cancer Clinical Investigator Team Leadership Award from the National Cancer Institute.
Prof. Neeraj Agarwal has received financial support/sponsorship for research support, consultation, or speaker fees from the following companies:
Arnivas, Astellas, AstraZeneca, Bavarian Nordic , Bayer, Bristol Myers Squibb, Calithera, Celldex, Clovis, Crispr, Eisai, Eli Lilly, EMD Serono, Exelixis, Genentech, Gilead, GSK, Immunomedics, Janssen, Lava, Medivation, Merck, Nektar, Neoleukin, New Link Genetics, Novartis, Oric, Pfizer, Prometheus, Rexahn, Roche, Sanofi, Seattle Genetics, Takeda, and Tracon.
Other programmes developed by Prof. Neeraj Agarwal
Oncology
Episode 3: Overview of efficacy and safety data of combination therapy with PARPi and NHAs, incorporating the latest data presented and the impact for the treatment of patients with mCRPC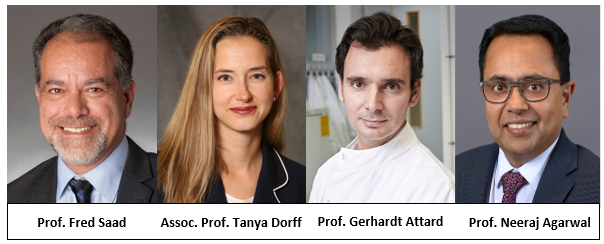 Oncology
On-demand e-learning, video replay and slide set now available
Experts
Prof. Fred Saad, Assoc. Prof. Tanya Dorff, Prof. Gerhardt Attard, Prof. Neeraj Agarwal
Oncology
Episode 2: Presidential Sessions
Experts
Prof. Neeraj Agarwal, Dr Ray Manneh Kopp
Oncology
Episode 1
Experts
Prof. Neeraj Agarwal, Dr Ray Manneh Kopp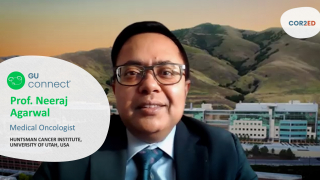 Oncology
Prof. Neeraj Agarwal takes a look at poly-ADP ribose polymerase inhibitors (PARPi's) in prostate cancer and in particular the latest clinical developments.
Experts
Prof. Neeraj Agarwal
Oncology
Experts
Prof. Neeraj Agarwal