Practical considerations on the use of TPO-RAs in ITP
Practical considerations on the use of TPO-RAs in ITP
Dr Vickie McDonald, Prof. Michael Tarantino, Dr Hillary Maitland
This Experts Knowledge Share took place on 11th December, with participants from over 20 countries discussing management of chronic ITP in adults with TPO-RAs, with an expert faculty comprising Dr Hillary Maitland, Dr Michael Tarantino and Dr Vickie McDonald.
The key topics covered in the meetings were:
When to start TPO-RAs and how and where to administer them
Monitoring safety and efficacy
Long-term remission, tapering and adjusting treatment
This programme is supported by an Independent Educational Grant from Sobi.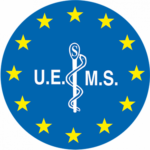 This course has been accredited by the European Accreditation Council for Continuing Medical Education (EACCME®) and ECMEC® is available. Through an agreement between the European Union of Medical Specialists (UEMS) and the American Medical Association (AMA), physicians may convert EACCME credits to an equivalent number of AMA PRA Category 1 Credits™.
Other programmes of interest