Dr Catherine Frenette discusses the Clinical Question: HCC screening for early diagnosis: feasibility and reality?
Catherine Frenette, MD underwent medical training at Rush Medical College in Chicago, IL. She then completed internal medicine training at Scripps Mercy Hospital in San Diego, CA, and subsequently underwent training in gastroenterology with a focus on transplant hepatology at Scripps Clinic in La Jolla, CA. Dr Frenette currently works at the Scripps Clinic Center for Organ and Cell Transplantation where she is the Medical Director of Liver Transplantation. She is also the Medical Director of the Hepatocellular Carcinoma Program. Dr Frenette has several active research trials as well as serving in a teaching capacity for the residents and fellows at Scripps Clinic. Dr Frenette holds special clinical interest and expertise in liver transplantation to treat cirrhosis, hepatocellular carcinoma, autoimmune hepatitis, viral hepatitis, acute liver failure and end stage liver disease. She is a world-renowned expert in the treatment of all stages of hepatocellular carcinoma, and has done multiple national and international educational sessions on this topic. She has been awarded Fellow Status of the American Society of Transplantation, and has recently also been awarded Fellow of the American Gastroenterology Association. Relevant publications Abou-Alfa G, Yen C-J, Hsu C-H, O'Donoghue J, Beylergil V, Ruan S, Pandit-Taskar N, Gansukh B, Lyashchenko S, Ma J, Wan P, Shao Y-Y, Lin Z-Z, Frenette CT, O'Neil B, Schwartz L, Smith-Jones P, Ohtomo T, Tanaka T, Morikawa H, Maki Y, Ohishi N, Chen Y-C, Agajanov T, Boisserie F, De Laurenzio L, Lee R, Larson S, Cheng A, Carrasquilo J. Phase Ib study of codrituzumab in combination with sorafenib in patients with non-curable advanced hepatocellular carcinoma. Cancer Chemother Pharmacol 2017 Feb; 79(2): 421-429. doi: 10.1007/s00280-017-3241-9. Nhu QM, Knowles HJ, Pockros PJ, Frenette CT. Pulmonary complications of transcatheter arterial chemoembolization for hepatocellular carcinoma. World J Respirol 2016 Nov; 6(3): 69-75. PMID 27035078 Yan M, Ha J, Aguilar M, Liu B, Frenette CT, Bhuket T, Wong RJ. Older patients with hepatocellular carcinoma more advanced disease, lower rates of treatment, and lower survival. J Clin Gastroenterol 2016; in press. PMID 27380460 Frenette CT. Surveillance for hepatocellular carcinoma. Gastroenterol Hepatol (N Y) 2016 Jun; 12(6): 394-6. PMID 27493599 Frenette CT. Surveillance for hepatocellular carcinoma. Clin Adv Hematol Oncol 2016 Jun; 14(6): 407-9. PMID 27379808 Ahn J, Bhuket T, Mosadeghi S, Frenette CT, Liu B, Wong RJ. End stage liver disease patients with MELD > 40 have higher waitlist mortality compared to status 1A patients. Hepatol Int Sep 2016; 10(5): 838-46. doi: 10.1007/s12072-016-9735-4. Curry MP, O'Leary JG, Bzowej N, Muir AL, Korenblat KM, Fenkel JM, Reddy KR, Lawitz E, Flamm SL, Schiano T, Teperman L, Fontana R, Schiff E, Fried M, Doehle B, An D, McNally J, Osinusi A, Brainard DM, McHutchinson JG, Brown RS Jr, Charlton Ml, ASTRAL-4 Investigators. Sofosbuvir and velpatasvir for HCV in patients with decompensated cirrhosis. N Engl J Med 2015 Dec 31; 373(27): 2618-28. PMID 26569658 Nhu QM, Knowles HJ, Pockros PJ, Frenette CT. An unexpected pulmonary complication following transcatheter arterial chemoembolization of a small hepatocellular carcinoma. J Clin Gastroenterol 2016; 50(6): 524-5. PMID 27035078 Brown RS, O'Leary JG, Reddy KR, Kuo A, Morelli GJ, Burton JR, Stravitz RT, Durand C, Di Bisceglie AM, Kwo P, Frenette CT, Stewart TG, Nelson DR, Friend MW, Terrault NA, HCV-TARGET Study Group. Inteferon-free therapy for genotype 1 hepatitis C in liver transplant recipients: real world experience from HCV-TARGET. Liver Transpl 2016 Jan; 22(1): 24-33. PMID 26519873 Ha J, Yan M, Aguilar M, Tana M, Liu B, Frenette CT, Bhuket T, Wong R. Race/ethnicity-specific disparities in hepatocellular carcinoma stage at diagnosis and its impact on receipt of curative therapies. J Clin Gastroenterol 2016; 50 (5): 423-430. PMID 26583267 Bhangoo MS, Karnani DR, Hein PN, Giap H, Knowles H, Issa C, Steuterman S, Pockros P, Frenette CT. Radioembolization with Yttrium-90 microspheres for patients with unresectable hepatocellular carcinoma. J Gastrointest Oncol 2015; 6(5): 469-478. PMID 26487939 Au J, Frenette CT. Management of hepatocellular carcinoma: current status and future directions. Gut Liver 2015; 9(4): 437-448. PMID 26087860 Chiao H, Frenette CT. Solid organ transplantation: little research, big need for patients with HCV. HCV Next 2014 May/June; 1(3): 15-20. Scherschel A, Minteer WB, Frenette CT. An interesting case of inclusion body myositis after 48-week interferon treatment for hepatitis C. HCV Next 2014 Mar/Apr; 1(2): 8-10. Crissien AM, Frenette CT. Current management of hepatocellular carcinoma. Gastroenterol Hepatol 2014 Mar; 10(3): 153-61. PMID 24829542. Torres HA, Kaseb A, Mahale P, Miller E, Frenette CT. Telaprevir-containing regimen for treatment of hepatitis C virus infection in patients with hepatocellular carcinoma awaiting liver transplantation: a case series. J Hepatocell Carcinoma 2014; 1: 109-14. Naugler WE, Alsina AE, Frenette CT, Rossaro L, Sellers MT. Building the multidisciplinary team for management of patients with hepatocellular carcinoma. Clin Gastroenterol Hepatol 2014; doi:10.1016/j.cgh.2014.03.038. PMID 24909910 Brose MS, Frenette CT, Keefe SM, Stein SM. Management of sorafenib-related adverse events: a clinician's perspective. Semin Oncol 2014; 41(S2): S1-S16. PMID 24576654
Dr Catherine Frenette has received financial support/sponsorship for research support, consultation, or speaker fees from the following companies:
AstraZeneca, Bayer, BMS, Exelixis, Eisai, Fujifilm Wako, Genetech and Merck. 
Other programmes of interest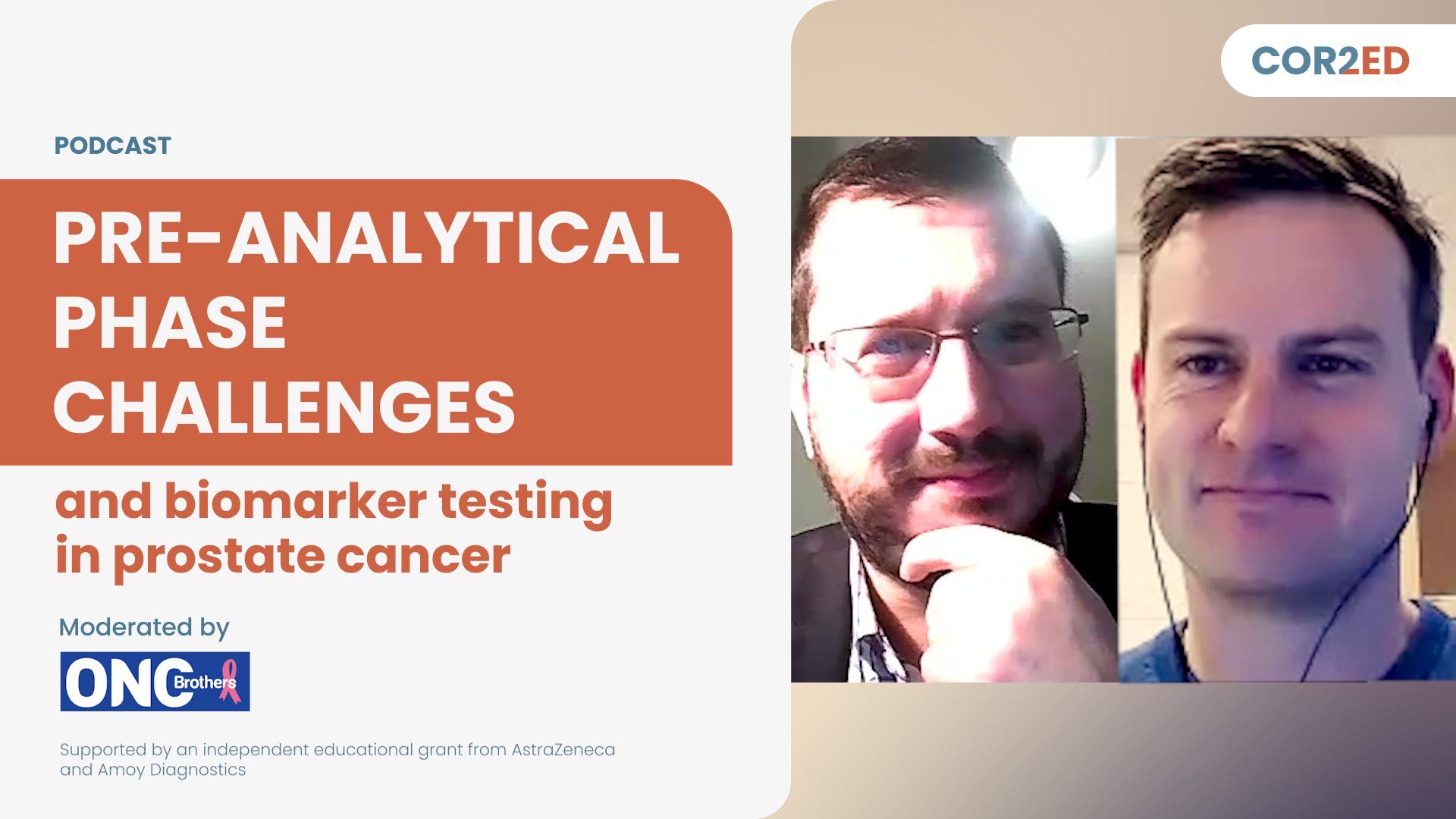 Podcast
Oncology
Moderated by the Oncology Brothers. Episode 1 of a 3-part video podcast series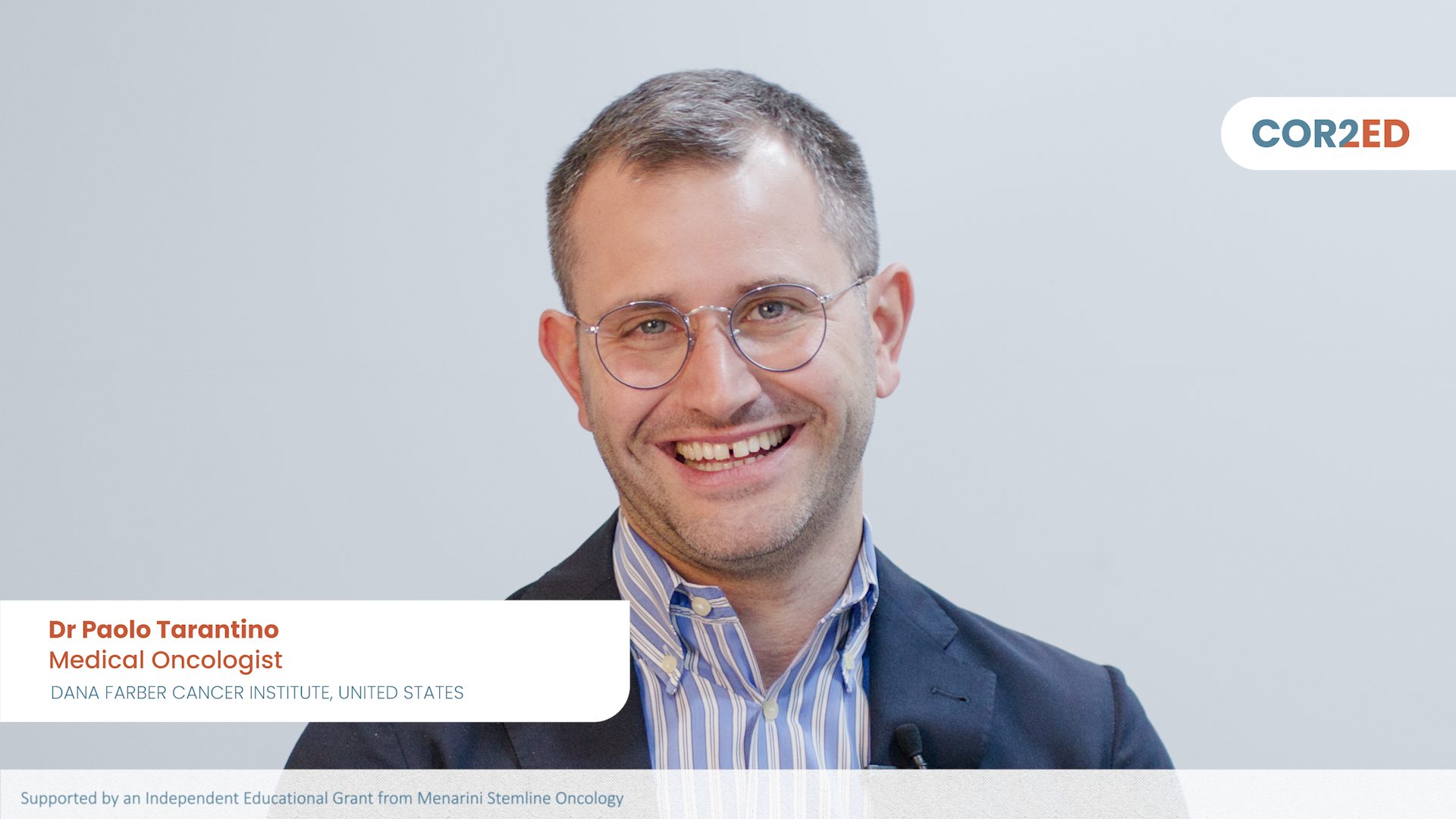 Tweetorial
Oncology
Explore a patient case from testing, diagnosis and treatment
Oncology
An interactive patient case video series from breast cancer specialists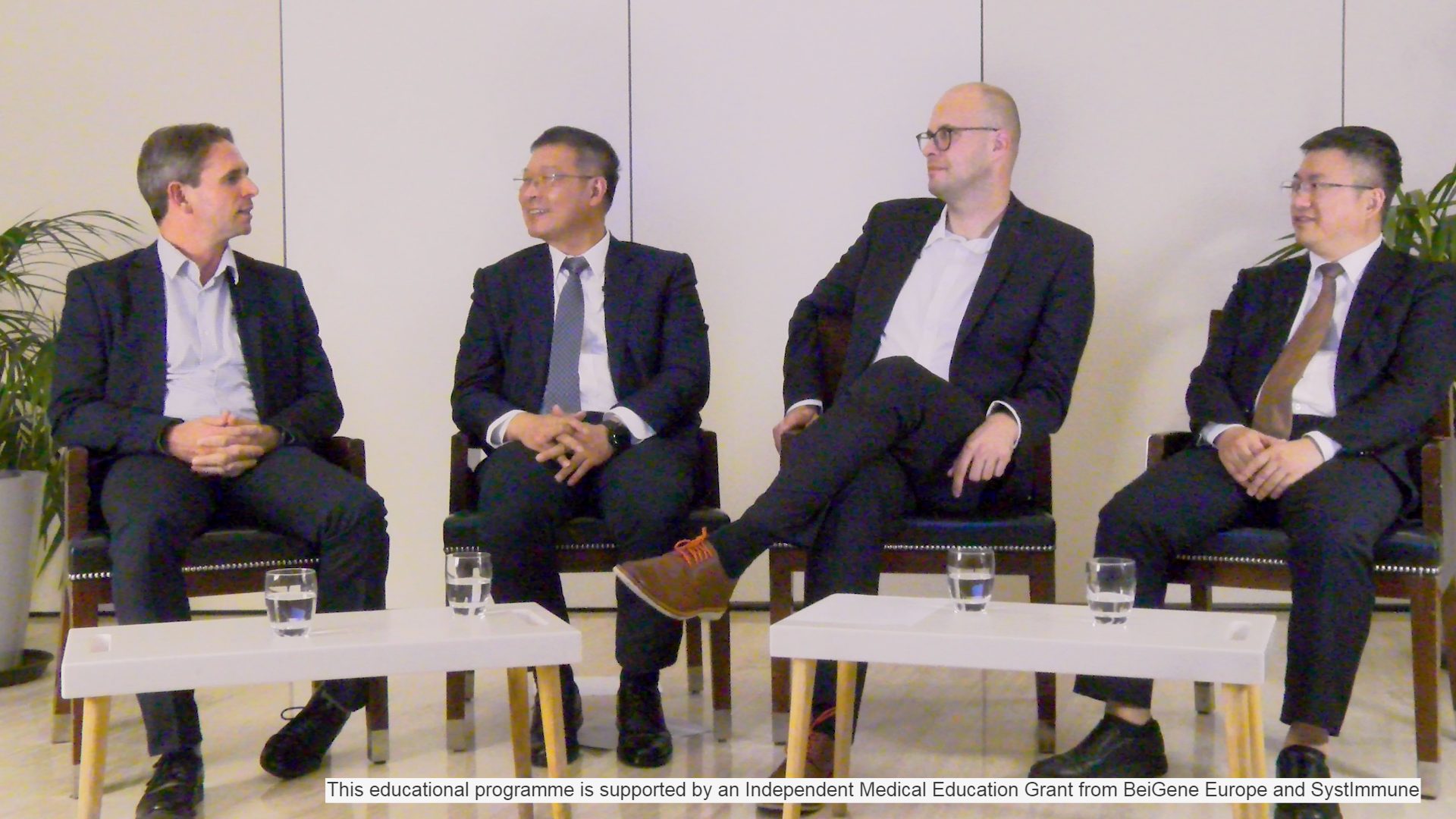 Conference update
Oncology
An expert panel discussion hosted by COR2ED and eChinaHealth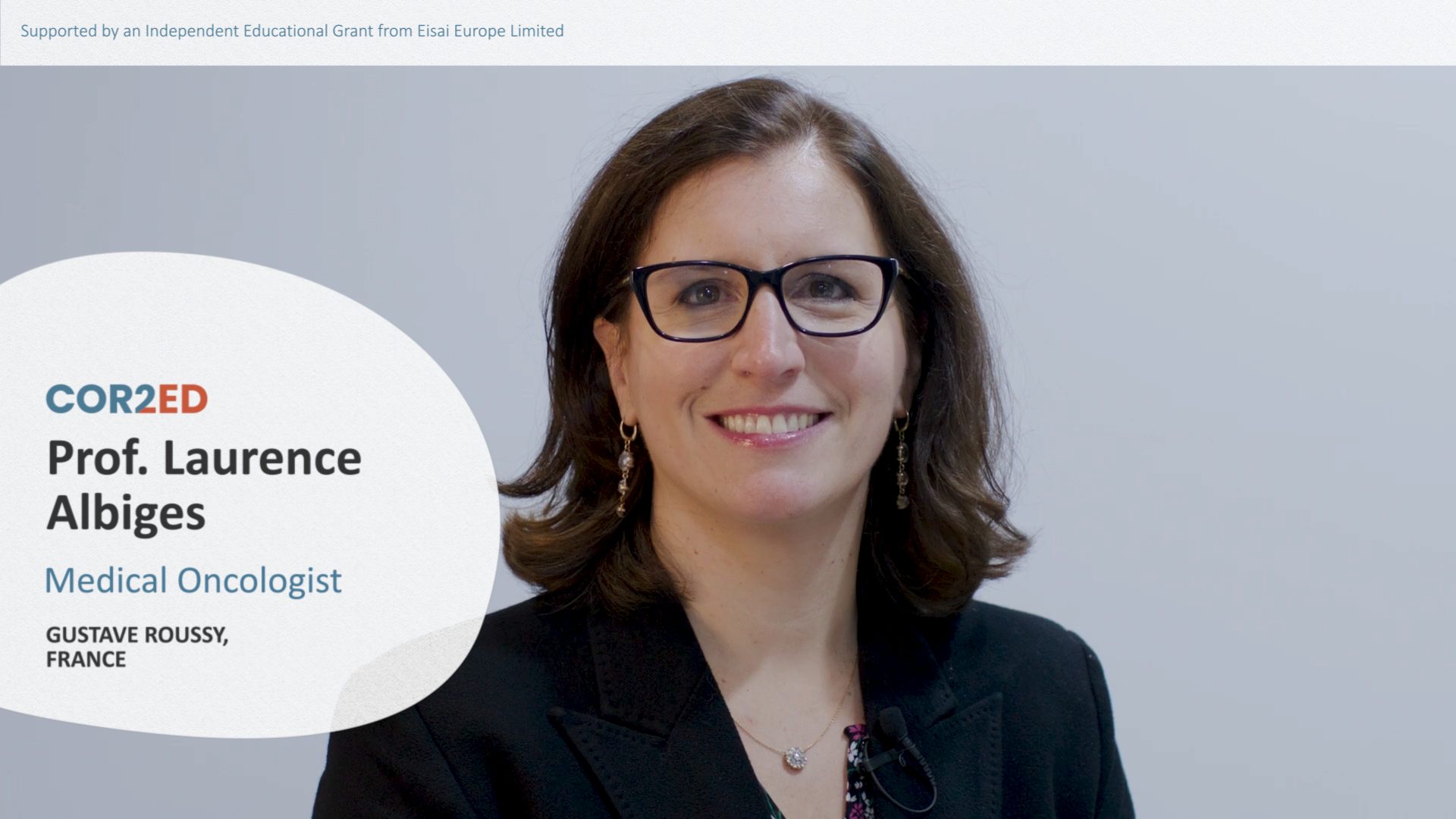 Conference update
Oncology
How will the latest data impact clinical practice?
Experts
Prof. Laurence Albiges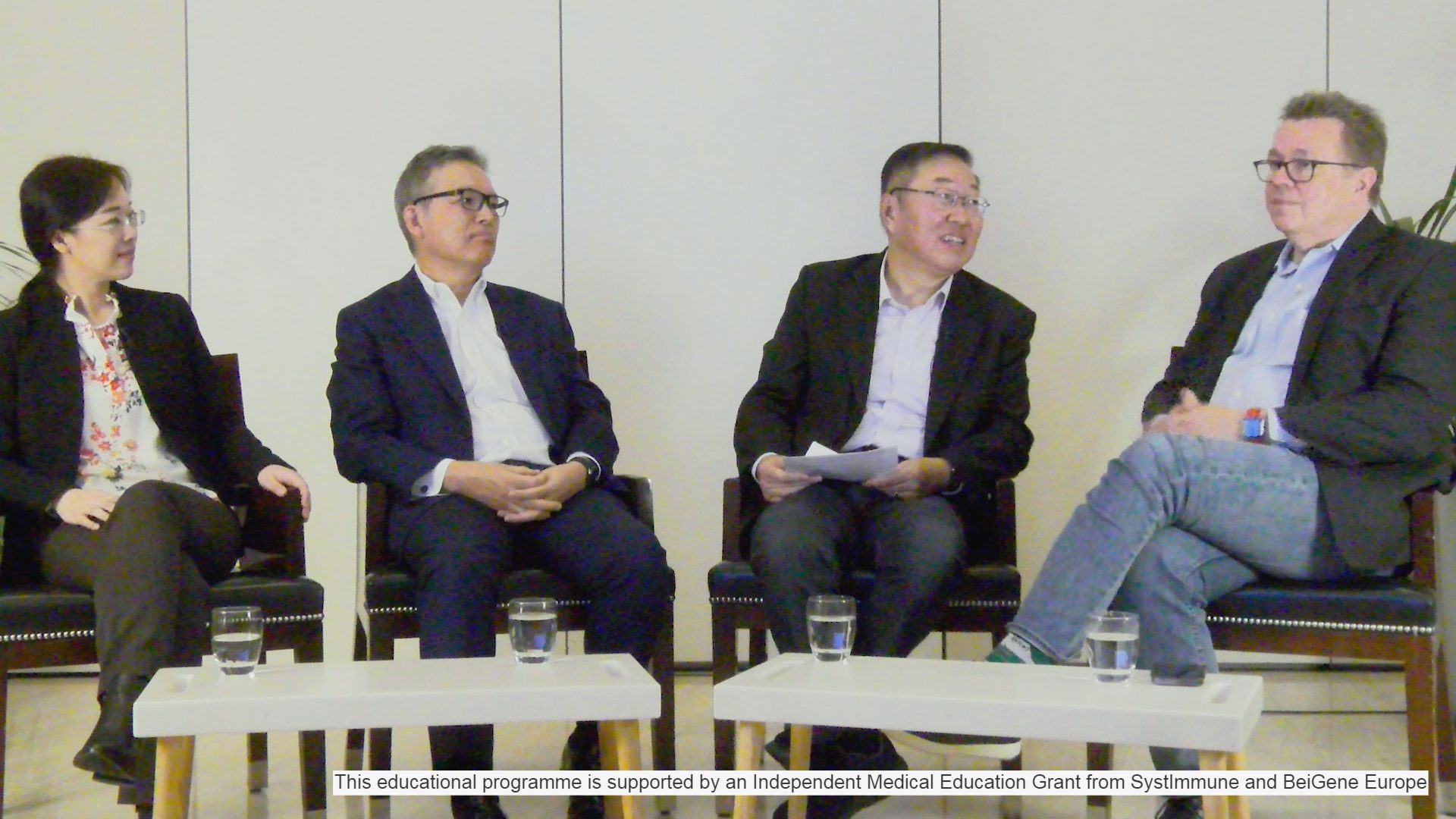 Conference update
Oncology
An expert panel discussion hosted by eChinaHealth and COR2ED