Marco de comunicación GUIDE: aprendizaje electrónico acreditado (ES)
Marco de comunicación GUIDE: aprendizaje electrónico acreditado (ES)
Fransen McGinley, Sven De Keersmaecker, Nina Grenon
El Marco de Comunicación GUIDE ofrece un sencillo enfoque de 5 pasos para optimizar el papel de la enfermera en el fortalecimiento de la toma de decisiones compartidas entre los pacientes con cáncer colorrectal y su equipo sanitario. Los mismos principios pueden aplicarse de forma más amplia a las interacciones con pacientes con cualquier otro tipo de cáncer. Realiza ahora el aprendizaje electrónico acreditado. Para acceder al curso tendrás que iniciar sesión o abrir una cuenta en COR2ED Checkpoint.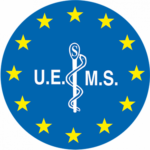 This course has been accredited by the European Accreditation Council for Continuing Medical Education (EACCME®) and ECMEC® is available. Through an agreement between the European Union of Medical Specialists (UEMS) and the American Medical Association (AMA), physicians may convert EACCME credits to an equivalent number of AMA PRA Category 1 Credits™.
GI NURSES CONNECT is an initiative of COR2ED, supported by an Independent Educational Grant from Bayer and from Eisai Europe Limited.
Other programmes of interest
Other programmes developed by Fransen McGinley
Other programmes developed by Sven De Keersmaecker
Other programmes developed by Nina Grenon