PARP inhibitors in prostate cancer and the rationale behind combination treatment
PARP inhibitors in prostate cancer and the rationale behind combination treatment
A 2-part micro learning programme with videos and downloadable resources
A 2-part micro learning programme with videos and downloadable resources
Assoc. Prof. Alicia Morgans, Dr Pasquale Rescigno
In this micro learning programme, you'll learn about PARP inhibitors in prostate cancer from independent experts Assoc. Prof. Alicia Morgans and Dr Pasquale Rescigno. 
Learning resources include videos, slides, flashcards and assessments. Complete both modules to earn your CME credit.
What you'll learn
Clinical takeaways:
PARP inhibitors are effective drugs as monotherapy in mCRPC patients with HRR alterations
Genetic testing is important to help with treatment decision-making and for understanding inherited risk
BRCA mutations are associated with poor outcomes in mCRPC patients
Patients with tumours harbouring BRCA1/BRCA2 alterations appear to derive the greatest clinical benefit from PARPi, but patients with other HRR alterations also derive benefit
PARP inhibitors combined with novel hormonal agents are effective as a first-line treatment option for mCRPC patients with an HRR mutation. Certain combinations, such as olaparib plus abiraterone, have also shown benefits in patients regardless of their HRR status
This PARP Inhibitors in Prostate Cancer micro e-learning programme is endorsed by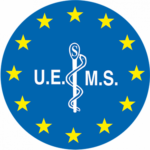 This course has been accredited by the European Accreditation Council for Continuing Medical Education (EACCME®) and ECMEC® is available. Through an agreement between the European Union of Medical Specialists (UEMS) and the American Medical Association (AMA), physicians may convert EACCME credits to an equivalent number of AMA PRA Category 1 Credits™.
This educational programme is supported by an Independent Medical Education Grant from AstraZeneca
GU CONNECT is an initiative of COR2ED, supported by an Independent Educational Grant from AstraZeneca, Bayer and Eisai Europe Limited.
Other programmes of interest