Prof. Eric Rush (Children's Mercy Hospital) and patient advocates Inês Alves (European Rare Bone Forum and ANDO Portugal) and Tracy Hart (Osteogenesis Imperfecta Foundation) share rare bone disease highlights from the ASBMR 2022 Annual Meeting. Downloadable educational infographics summarize their podcast highlights.
In these two episodes, the experts review the latest pre-clinical and clinical research findings in fibrodysplasia ossificans progressiva (FOP), hypochondroplasia (HCH), osteogenesis imperfecta (OI), and autosomal dominant osteopetrosis. The rare bone disease patient experience is elevated in discussion of the IMPACT survey in OI, as is the role of patient advocacy in keeping patient and caregiver communities informed about research.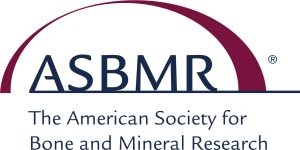 This educational activity was developed in partnership between COR2ED and the American Society for Bone and Mineral Research, supported by an independent medical education grant from the Rare Bone Disease Consortium, represented by Alexion, AstraZeneca Rare Disease, by Ipsen and by Kyowa Kirin, who had no input into selection of topics or speakers.